Top Five Plays to See in A Lifetime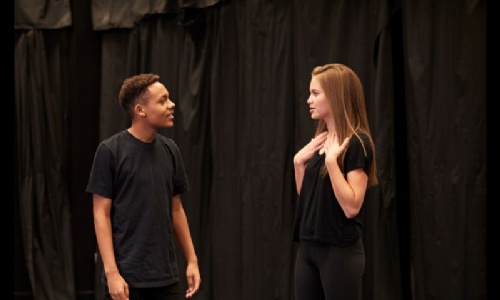 In dreaming
The clouds methought would open and show riches
Ready to drop upon me, that when I waked
I cried to dream again."
Shakespeare's Caliban mourns the absence of dreams when he reawakens to his chilling existence; he laments the bounteous, alternative reality he had imagined for himself. Theatre is the realm within which audiences, along with the characters onstage, are invited to dream. The stage is a space upon which a plethora of existences are encapsulated, from foreign past landscapes, to scenes of familiar, or unfamiliar, presents, to the possibilities of new (predictable or unpredictable) futures. Dreams and dreaming are an important form of escapism which help to ease the pressures of modern life, as illustrated within Caliban's poignant speech. In a world overrun by scary news stories, and the reality of adjusting to a 'new normal', in which the future of performance and creative industries hangs in the balance, it is now — more than ever — important to keep dreaming.
There are so many plays out there! You may find yourself wondering where in the world do I start? Well, buckle your seatbelts and prepare for a whirlwind tour through — in my humble opinion — the top five plays to see in a lifetime. From sixteenth century comedy to twentieth century puppetry, these plays are guaranteed to keep you dreaming.
1: A Midsummer Night's Dream (1600)
Would a run-down of history's richest literature really be complete without a helping of Shakespeare? A Midsummer Night's Dream has dreams and illusions at its heart, enchanting its audiences through its playful explorations of love, fairies and mischief. This play encourages the adoption of a kind of double vision, and the temporary suspension of reality, making you 'see things with parted eye', alike the characters on stage. Nicholas Hynter's recent production at The Bridge Theatre took the play's gender roles into its own hands, swapping the dialogue of King Oberon and Queen Titania, thereby exemplifying the ever-present relevance of Shakespeare's literature through a uniquely contemporary spin, wherein gender roles are subverted, endearing its modern audience.
2: The White Devil (1612)
Webster's bitter tragedy of ambition, corruption and bloody revenge never fails to engage its audience, capturing the playwright's purpose to expose the 'political and moral state of England in his own day'. The play's eponymous figure, Vittoria Corombona, serves to highlight the deeply contradictory and ambiguous state of affairs within Jacobean England, where goodness and purity are intermingled with evil and darkness. I, for one, was deeply awestruck by this confident, villainous woman, so unafraid to stick up for herself, despite intimidating confrontations at the hands of the patriarchy; she is admired even by society's aristocratic gentlemen for her 'brave spirit'. I think we can all learn something from her unwavering confidence and impressive ability to question society's entrenched social hierarchy.
3: Waiting for Godot (1948)
Beckett's 1948 play signalled the arrival of a new kind of theatre, characterised by existentialism and melancholia, after the turmoil of the early twentieth century, owing to its two world wars. Beckett disregards traditional theatrical conventions, which prioritise plot and investable characterisation; instead, he creates a barren landscape within which the one-dimensional characters' actions are meaninglessly repeated. This play, quite literally, does what it says on the tin. The audience, along with the characters on stage, are simply left in a temporary suspension of reality, endlessly 'waiting for Godot'. Who is Godot? Why are we kept waiting for him? This play poses questions about the purpose and meaning of theatre, and more existentially, the meaning of life, which leave the audience in a stunned sense of contemplation.
4: West Side Story (1957)
Transporting its audience into the multiracial landscape of New York City's Upper West Side, this 'modern day Romeo and Juliet' explores the fractious relations between teenage street gangs, the 'Jets' and the 'Sharks'. This musical unflinchingly engages with the social issues of its time, addressing gang violence, police altercations, immigration and racial discrimination. Its timeless themes and appeals for tolerance make it an engaging drama that continues to resonate with contemporary audiences, who, just as much as the characters onstage, continue to advocate for an existence characterised by 'peace and quiet and open air… somewhere.'
5: War Horse (1982)
Inspired by Michael Morpurgo's cherished novel, this tale movingly carries its audience from rural England to World War One's French trenches, enabling us to vicariously experience a poignant journey of love and loss, which emphasises the deep connection that exists between humans and animals. The majestic, galloping, four-legged protagonist is brought into living, breathing reality on the stage through intricately crafted and carefully controlled puppets. The hopeful tone of the play's ending captures Morpurgo's reassuring claim that 'wherever my story takes me, however dark and difficult… I know the sun will rise in the morning, that there is a light at the end of every tunnel'.
So, there you have it. A list of some of the most interesting, engaging and morally profound alternative realities to seek escapism within, amidst the turmoil of our ever-changing contemporary landscape. I hope you can seek comfort in the notion that there is an endless supply of existences in which to take refuge during these unsettling times. As the famous Shakespeare saying goes, 'All the world's a stage'; and we, my friends, are its dreamers.